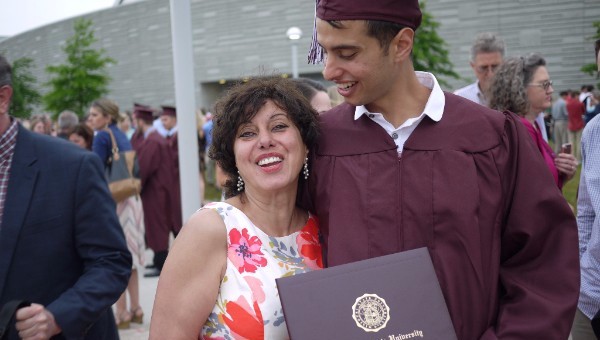 Last year, I wrote a letter to my little brother. Experience Institute was about to pilot a brand new 3-month program for college students and Johnny applied to join the very first class.
Our team was thrilled. The program would have been perfect for him. He was a pre-med student heading into his senior year. He was unsure about what he wanted to do after college. And he was hungry to learn about how his skills fit into other industries.
But then our dad was diagnosed with stage four pancreatic cancer and Johnny couldn't spend the summer away from home. And in December, our family helped dad pass from this life to the next.
Since then, we have spent a lot of time together as a family to find our footing — meals, theaters, museums, discussions about our future. In particular, our older brother, George, and I have shared countless conversations about what Johnny could do after college.
Last spring, he told us about a company he'd been curious about for years. His friend's father was the owner. The company specializes in creating people-centric solutions to other companies' biggest challenges. But Johnny was getting his degree in biology and chemistry. What could he possibly offer? Working with them seemed like a long shot.
As spring approached, we brainstormed if and how he could pitch the small team for an internship right after he graduated college in May. He decided to give it a go.
For the next several weeks, Johnny and I chatted about the details of his proposals and interviews. I was so proud of the way he was navigating the ups and downs of the process. We discussed helpful digital tools for him to learn and I introduced him to a few thought leaders in the areas of Design Thinking, Lean Startup, and Storytelling.
Finally, at the beginning of May, Johnny received a note inviting him to join the team as an Engagement Coordinator Intern for the summer. He was so excited.
Now, Johnny is in the middle of his internship. We've been sharing calls and emails regularly. He's even taking Ei's online course in Design Thinking and we're treating him as part of our program.
All of this has felt like an amazing second chance for us to team up after last summer. And seeing him fly has made our team even more impassioned to support college students and recent grads in gaining meaningful experience that helps them reach their full potential.
Of course, we're still learning how to grow as a team and company. But every story matters… Kali Lewis. Paul Girgis. Stephanie Kang. Joe Burgum. Christopher Carter. Carisa Leal. Dane Johnson. Muffadal Saylawala. William Ferguson. Batmanli. Alifya. Anna. Johnny…. The list goes on…
Whatever you're working on today, there's a good chance you have a sincere desire to improve peoples' lives — people with real challenges facing how they see the world, make a living, and do their very best work. Just remember that impact starts with one person, and then moves to the next. And that very story is a glimpse.
Happy Wednesday,
Victor
PS: In the coming weeks, we'll be bringing our community together for a few helpful events around learning and growth. Our next is called Build to Think and will be held at WeWork on August 2nd. Snag your tickets here.